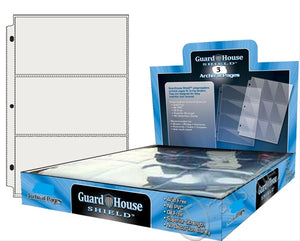 THREE Pocket Page - GUARDHOUSE Storage Pages Stamp Card Photo
10 -  3 Pocket Page GUARDHOUSE Storage Pages
FOR: 
Stamp Card Photo Large Currency Holder
Unlike Vinyl, Guardhouse Shield Polypropylene are 100% archival. Thinner, stronger and less susceptible to tearing and stretching.

3 Pocket Guardhouse Archival pages can hold and protect 8 x 3 1/2 photographs, sport cards, gaming cards, currency... At a fraction of the price!

Pocket Size: 8 x 3.5"


---
We Also Recommend