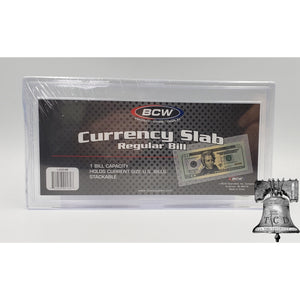 BCW Deluxe Currency Slab Dollar Bill Case Regular Banknote Size Archival Holder
★★★ BCW DELUXE CURRENCY SLAB REGULAR BILL ★★★ 
YOU WILL NOT RECEIVE THE OTHER DISPLAY ITEMS, THESE ARE FOR PRESENTATION ONLY
YOU ARE BUYING
 BCW Deluxe Currency Slab Regular Bill
DETAILS:
BCW Deluxe Currency Slab

Regular/Current Bill Size
These two piece display slabs snap together giving you the highest level of protection for your valuable currency. 
These crystal clear polystyrene holders are arguably the nicest holders on the market.
Premium Display Slabs for Modern Currency, Crystal Clear Hard Plastic, Acid Free , Archival Quality
Precision fit two piece snap together design
Offering both side visibility
 Excellent for long term storage
Dimensions
- Inside: 2 11/16 X 6 3/16
- Overall: 3 5/8 X 7
Your order supports a small family owned business
ATTENTION SELLERS! This listing is protected under copyright laws.
Any and all images and phrases used by Thecoindiggers LLC is fully protected by the intellectual property laws. You may not use, alter, copy, download or photoshop any of our images, logos or phrases at any time without the expressed written consent of Thecoindiggers LLC.  Any unauthorized use is subject to penalty under existing international procedures and laws
---
We Also Recommend