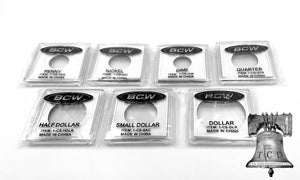 BCW 2x2 Coin Holder Snap Storage Capsule Case 7 U.S. Mint Sizes Frame Display
YOU ARE PURCHASING:
BCW Coin Snaps of your choice
Description: 2x2 coin snap holder made of inert polystyrene that will not harm coins. Insert has black foam on one side and white paper on the other. 100% archival plastic and no PVC. 2-piece snap design that are also stackable. Ideal for premium display or long-term storage of coins. Size: 2" x 2" x .25"
Coin sizes: Penny 19mm, Nickel 21.2mm, Dime 18mm, Quarter 24.3mm, Half Dollar 30.6mm, Small Dollar 26.5mm, Large Dollar 38.1mm
---
We Also Recommend