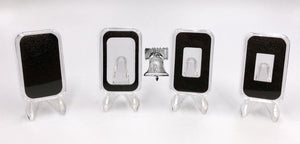 Air-tite Direct Fit Capsule 1 oz Bar Holder Acrylic Case
YOU ARE PURCHASING:
Air-tite Direct Fit Capsules of Choice 
Description: The 1 oz Bar bar holder is designed as a direct fit capsule for 1 oz Silver bars, but has rings and wafer inserts available for 1 gram, 5 gram, 10 gram and 1/2oz Bars. The holder consists of a cover and a base and each are PVC free. Air-tite holders are manufactured from acrylic plastic with a non-yellowing agent to produce a highly durable, crystal clear holder. Made in the USA.
Measurements: Inside - 1.158" x 1.985" (29.41mm x 50.80mm)
                          Outside - 1.375" x 2.197" (34.92mm x 55.80mm)
                          Inside depth - 0.098" (2.49mm)
                          Outside thickness - 0.224" (5.7mm)
**Stand not included**
---
We Also Recommend