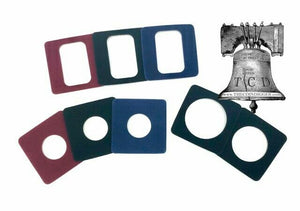 Air-tite Coin Holder Model A H I and Silver Gold Bar Velvet Display Card Insert
YOU ARE PURCHASING: 
Air-tite Model A H I and Silver/Gold Bar Colored Velvet Display Card   
Description: These display cards are a way to store or display one coin, bar, or medallion in an Air-tite capsule. The cards are made from chipboard laminated with black embossed paper on one side and a colored velour on the other side. 
Fits coins: Model A 10-19mm, Model H 26-32mm, and Model I 33-42mm.
Fits bars: 1/2 oz Silver bar, 1 oz Silver bar, 1 gram Silver or Gold, 5 gram Gold bar, 10 gram Gold bar.
Measurements: 2 ¾ x 2 ¾
Inserts are also available on Thecoindigger.com to fit Model A, Model H, Model I, and Bars in colors red, blue, and black.
Our velvet display cards go well with our Air-tite plastic storage box that fits 20 total display cards.
If you wish to purchase capsules, they are sold separately on our site or you can visit our listing on our website with both the display card and capsule combined.
**Bar and capsule not included**
---
We Also Recommend